BOSCH REFRIGERATOR COMBI BOTTOM FREEZER 578 LITRES NO FROST SILVER KGD76AL30U
27.000,00 EGP
521 Liter
No Frost
Bottom Freezer
1860 x 750 x 800 mm
220-240 Volts
50-Hz
Air Fresh Filter
4 glass shelves
Description
Health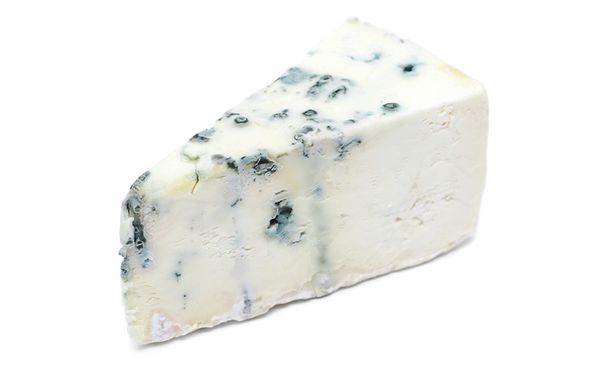 Fresh air without bacteria: airfreshFilter
AirfreshFilter with antiBacteria effectively neutralizes odors inside the refrigerator and filters bacteria out. Unpleasant substances are absorbed from foods with dense odors, and the air remains clean and fresh – without replacing the filter for the longevity of the device.
Comforts
More space for XXL frozen goods with BigBox freezer drawer.
Additional frozen food tray for practical stacking of the frozen food container or large frozen products such as brioche or pizza. Regardless of whether you have a birthday party or a wedding – at BigBox, you'll have enough room for frozen food products.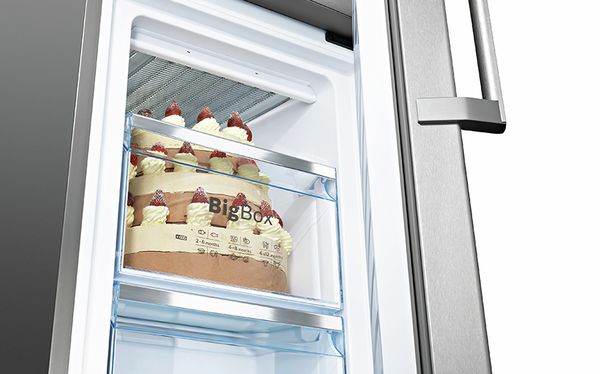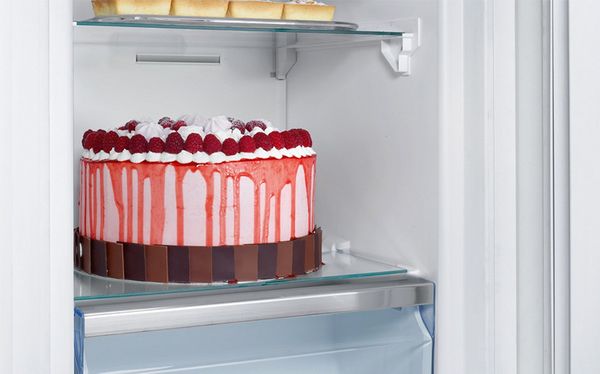 Full flexibility in the freezer area.
You can easily unscrew the safety glass shelves in the freezer area to provide more space – for storing a multi-level cake, for example a whole turkey. Family-sized foods can be stacked easily on glass surfaces.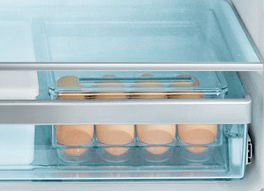 Ice complex
In case of power failure, the radiator plate is released through the collector to release cold air in order to keep the tank temperature
Resources
Enjoy life-long waste to keep food fresh.
Fresh food may stay fresh and healthy for a day, then lose that freshness the next day. But VitaFresh plus compartments help you store up to twice as much healthy food by maintaining optimal storage conditions through two different freezing zones. A low temperature area around 0 ° C, where you can store fish and meat hygienically in two separate drawers. A wet area: a large staircase specially designed for fruits and vegetables. Thanks to tight shedding, the ideal moisture is always kept inside the drawer and can be adjusted to two settings to better preserve vitamins and minerals. Get the most out of healthy, fresh foods.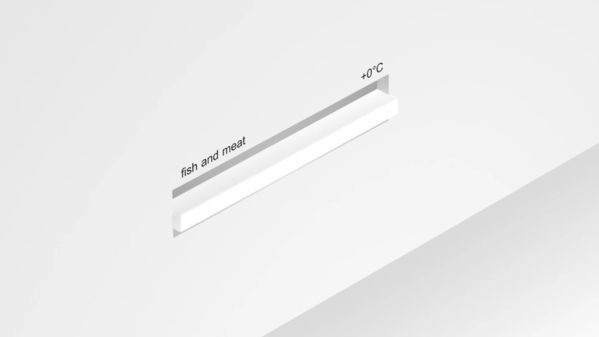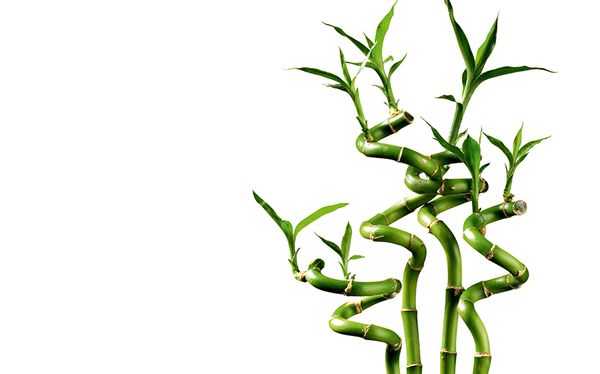 Energy efficiency class A ++: 25% less energy consumption than A + devices.
Refrigerator freezers in the A ++ Energy Efficiency category use 25% less energy than comparable A + appliances in size and equipment.
the performance
SuperFreezing: Protect pre-frozen foods.
SuperFreezing protects the frozen taste from thawing when new foods are added to the freezer, and new food is cooled faster. Devices with automatic freezing return to normal operation once the desired temperature has been reached. This in turn saves energy consumption.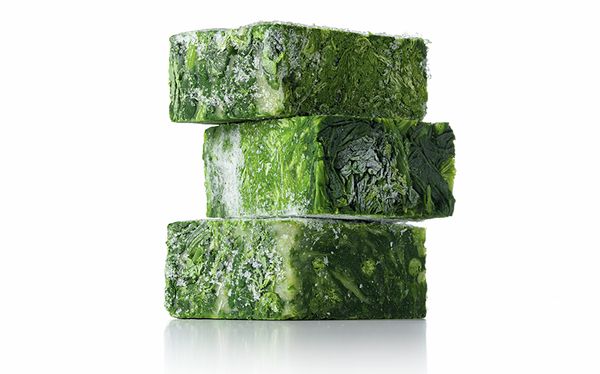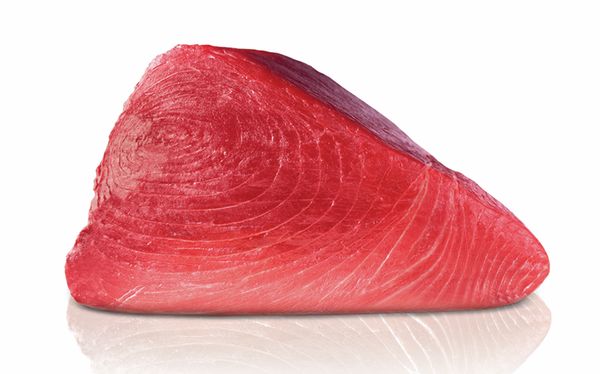 Save frozen foods with SuperCooling.
If SuperCooling is activated, newly purchased food is cooled more quickly. At the same time, it prevents food already in the refrigerator from getting hot. The temperature is reduced by pressing the button to reach a temperature of 2 ° C. To avoid unnecessary power consumption, the function is automatically switched off after 6 hours.
Multi-flow system: even air distribution to provide freshness longer.
The fan-assisted multi-flow system provides cool air currents coming out at levels in the cooling and freezing areas. Temperature fluctuations are minimized and cooling times reduced – helping foods retain flavor for longer.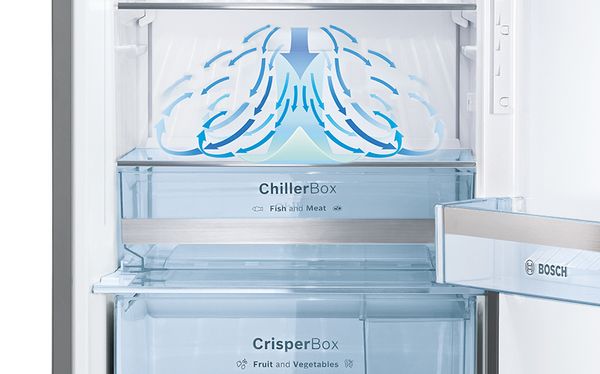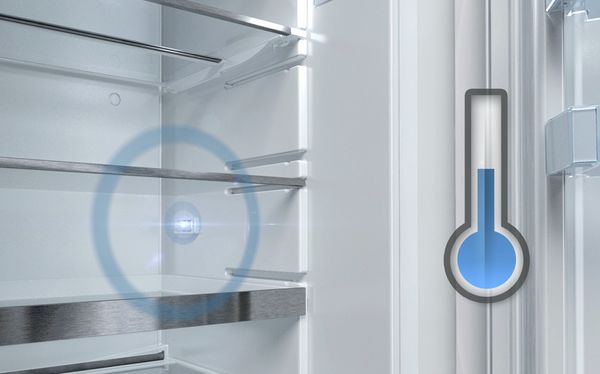 FreshSense: the ideal storage environment.
Thanks to optimal storage conditions, food retains a great consistency, for example ice cream is neither too tender nor too frozen. The constant temperature inside the fridge is a critical factor to reach more fresh and fresh products. FreshSense sensors continuously monitor and control ambient temperature and freezer temperature. As a result, you get a constant temperature inside the refrigerator independent of the outside temperature.
NoFrost: Save time.
With the NoFrost model, moisture in the air is collected in the central vaporizer instead of in the machine or on the food. This freeze, which pulls the heating out of the freezer area, is automatically thawed from time to time. The resulting condensation is taken out and evaporated using compressor heating in a special collecting container. This reduces moisture in the device, which means no snow at all. So no more worrying about freezing food anymore.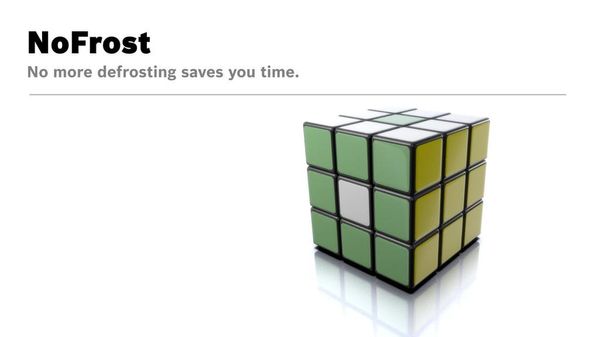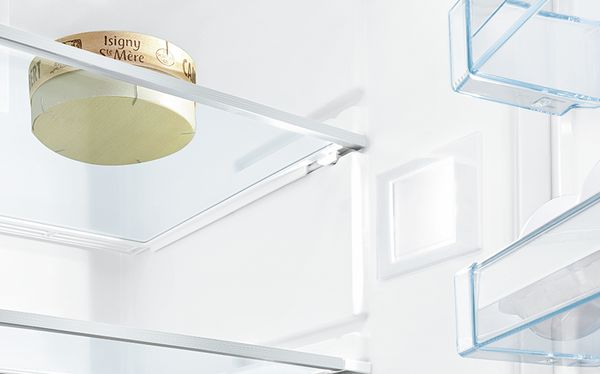 LED lighting: Keep the contents of the refrigerator in the spotlight.
LED lights offer a whole new concept of lighting in refrigerators, ensuring indoor lighting without glare. LED lights consume less electricity than traditional refrigerator lights and last throughout the life of the device.
---
Only logged in customers who have purchased this product may leave a review.