Samsung 55-inch Class Crystal UHD TU-8000 Series – 4K UHD HDR Smart TV with Alexa Built-in
9.799,00 EGP
The ability to use easily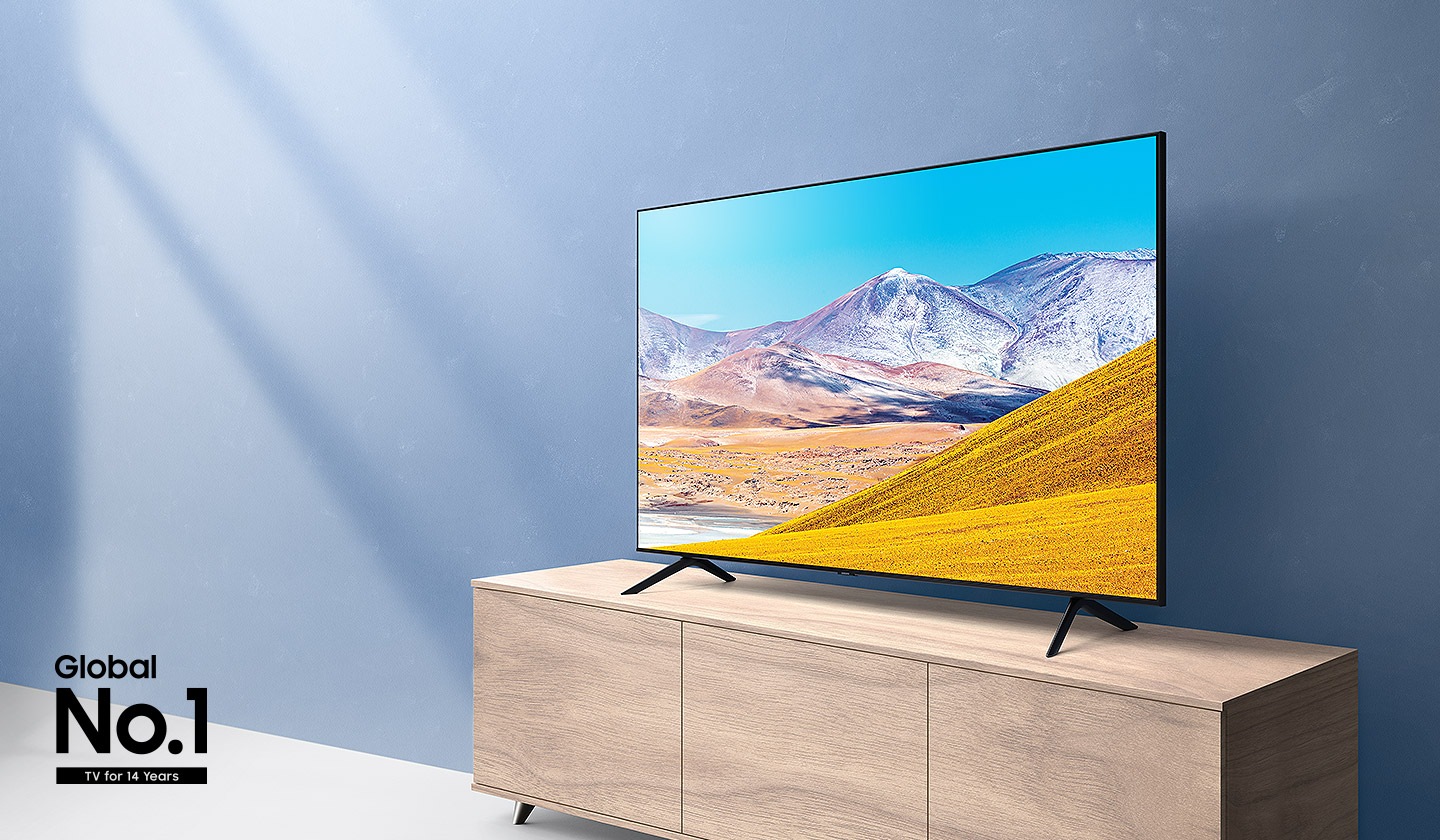 * Samsung has been ranked # 1 in TVs for 14 years
* Source – Omdia, January 2020. This rating relates to shipping terms. These results are not endorsed by Samsung. Any reliance on these results will be on the responsibility of the third party.
Loud, vibrant color expression
Crystal screen
Immerse yourself in picture splendor with the widest color gamut. Crystal display offers you enhanced color expression that lets you see every tiny detail.
High image quality
Crystal 4K processor
Impressive picture quality enabled by a single chip that organizes color, enhances the high contrast ratio, and masters HDR technology.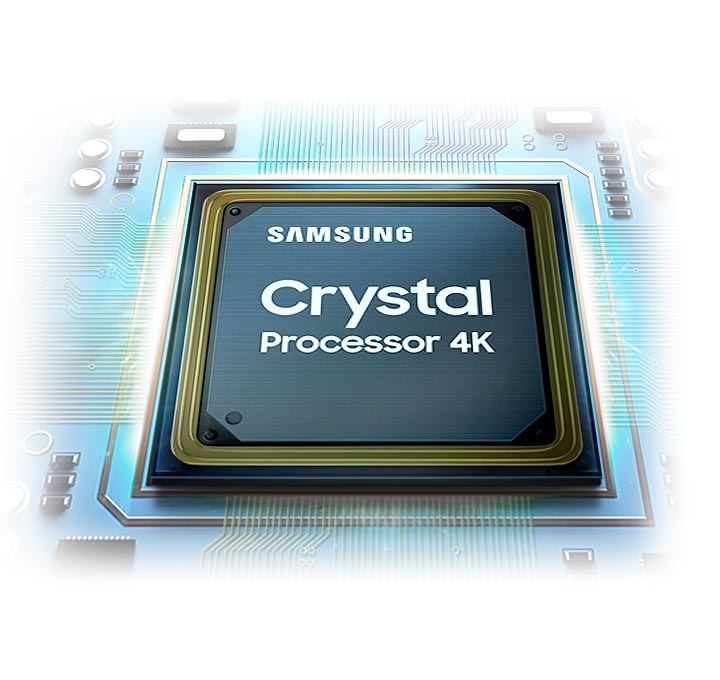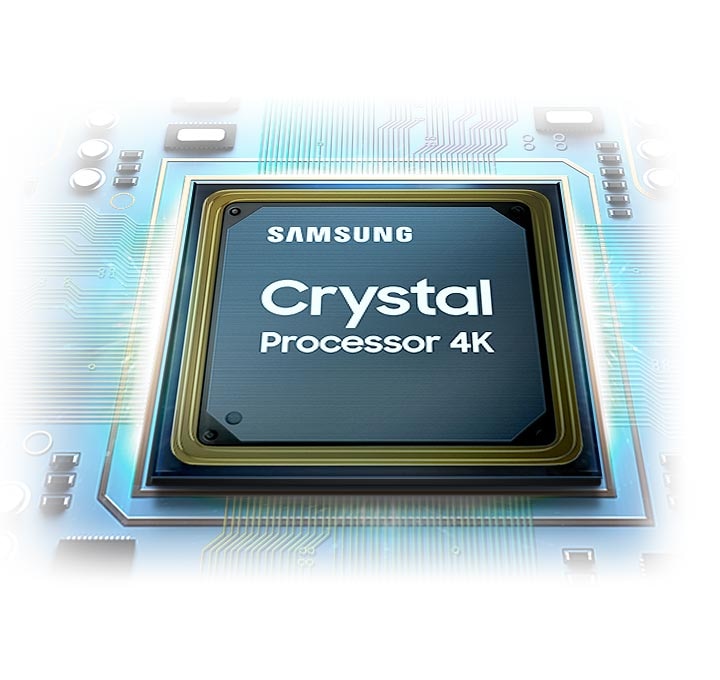 Watch the picture, not the TV
Three-sided, borderless design (Availability of feature may vary by region. So, check availability before use.)
Sleek, elegant design attracts you to view the purest images. Designed in the simplest styles, with no bezels, this TV sets new standards for TV. All this to immerse you in an unparalleled cinematic experience.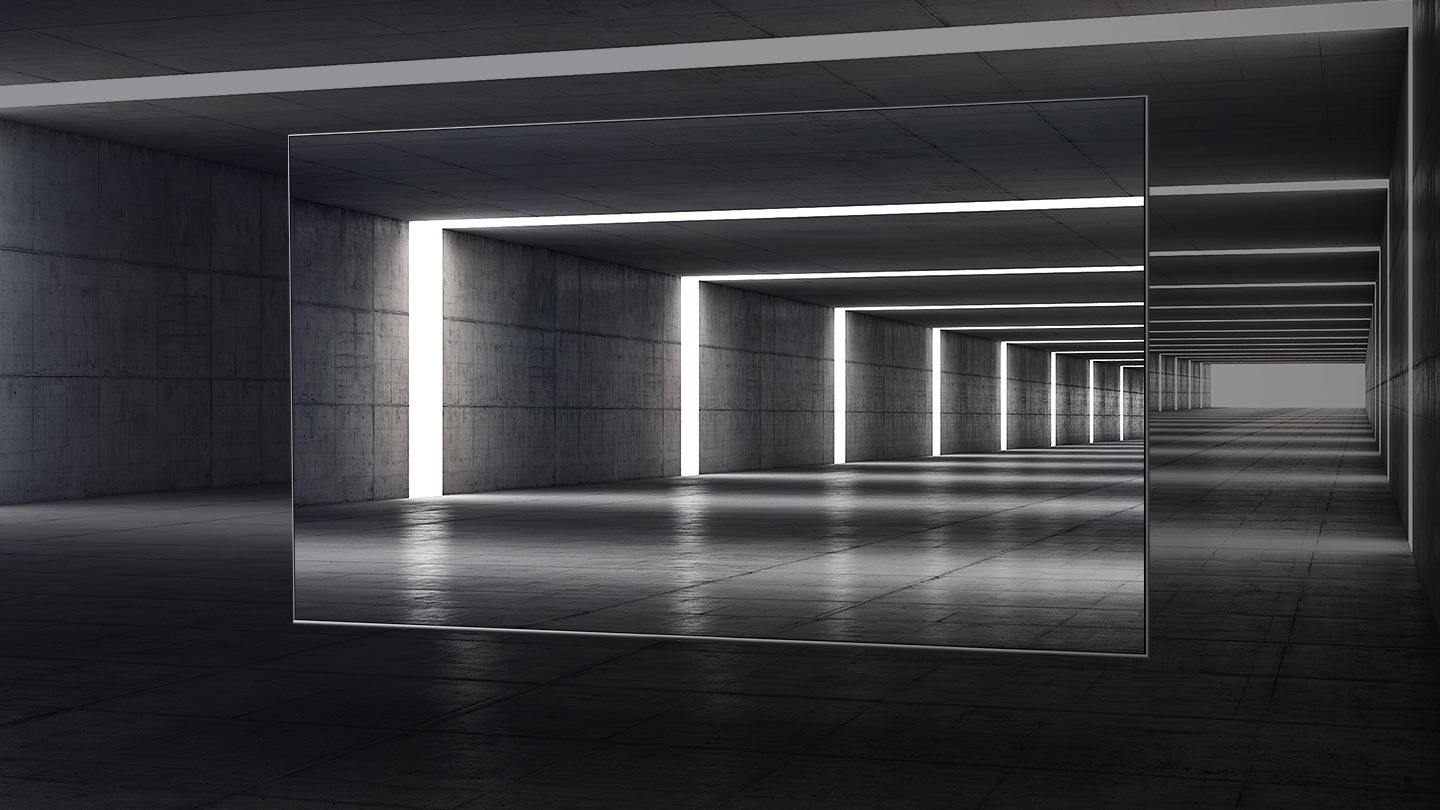 Decorate your living room with your favorite photos
Ambient mode
When you display your favorite photos on the TV screen, the TV itself blends into the decor with elegant harmony. You can display multiple photos in beautiful group or play them in slideshow mode to make viewing accurate and specific.
* Accuracy of wallpaper feature may vary based on TV location, and depends on wall designs, patterns, and colors, one or all of them.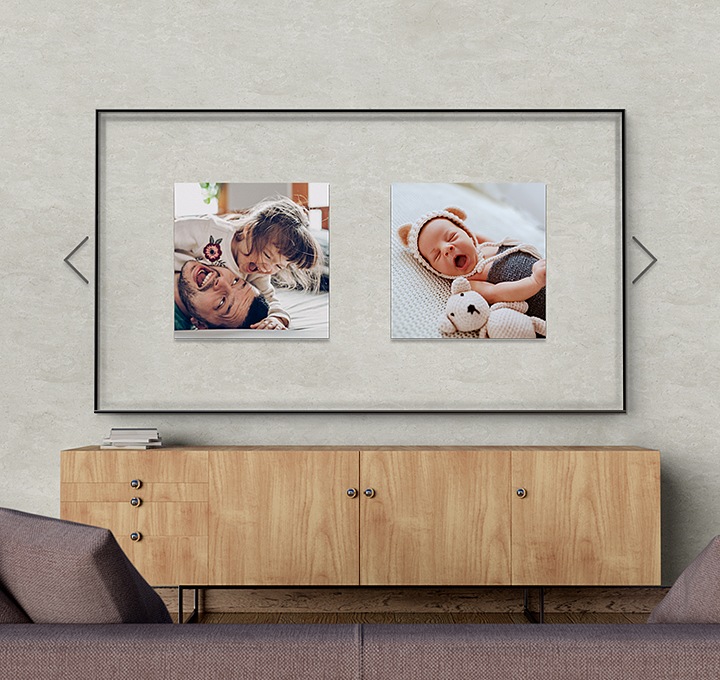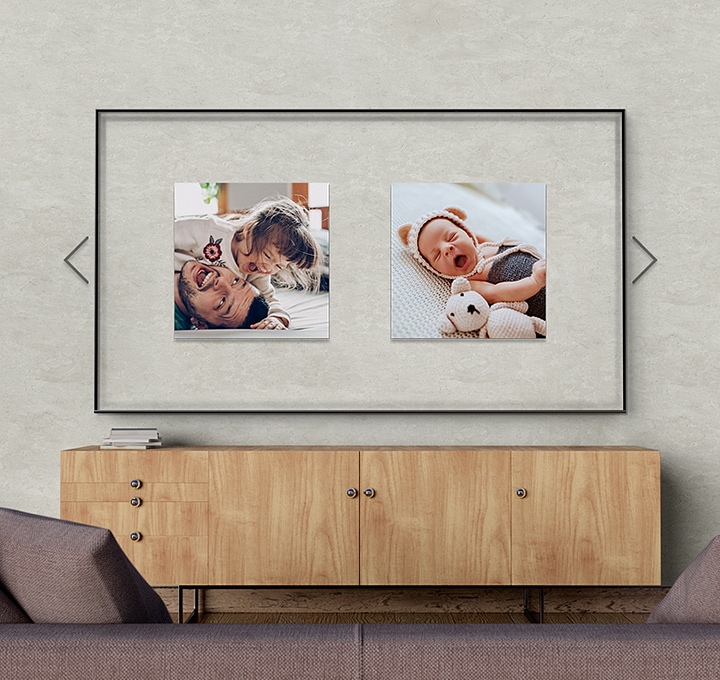 Feel the realism of 4K UHD
4K resolution
4K UHD TV is four times more pixelated than its FHD counterpart, so you get crystal clear pictures that spoil your eyes. Watch the content as if you were in the middle of the action.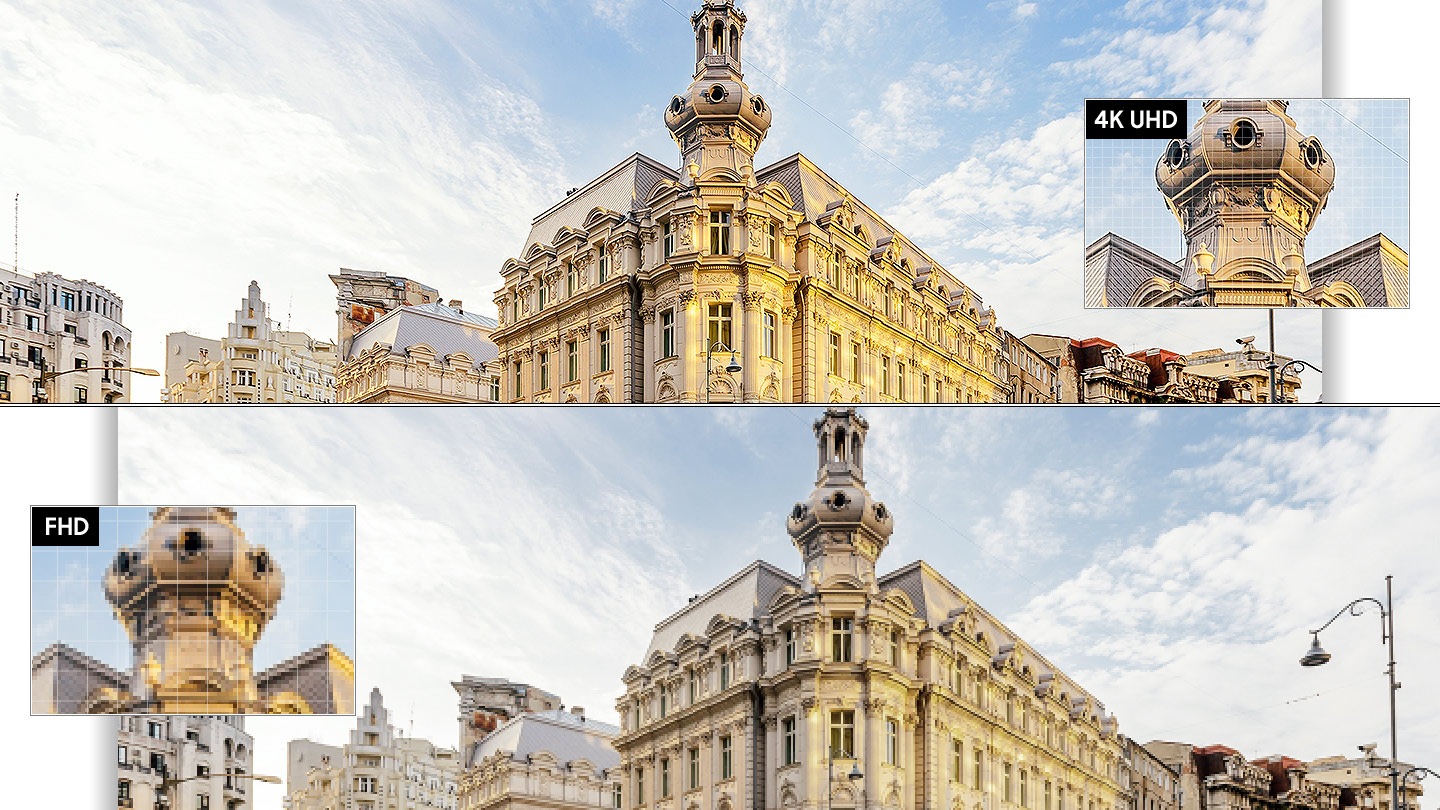 See stunning details
HDR technology
HDR technology increases the expression of brightness in your TV so you can enjoy a wide range of colors and visual details, even in the darkest scenes.
Enjoy a faster gameplay
Game booster
Thanks to Game Booster, you can play faster; This feature is able to improve your screen performance so that you can control the game on a larger scale by reducing input lag that is almost unnoticed. Enjoy fluid gameplay at its best without motion blur or vibration.
* Availability of the feature may vary depending on the game console.
Get rid of clutter of wires
Structured cabling solution
Samsung UHD TV offers a great solution to organize all your TV cables and hide them in the bracket without any effort. This helps you reduce clutter and fully enjoy your stunning TV design.
* Actual product may differ from image shown. Please see the product gallery.
* This feature does not apply to 43 inches.
Access various content with one remote control device
Smart hub and single remote control.
Here's everything you need to discover thousands of different content in one place and achieve the ultimate in enjoyment: the ergonomically designed, mono remote control that is easy to use to allow you to quickly search for all forms of your favorite content on your digital receiver, game console, app or Even live TV broadcasts.
* Service may not start at the same time as your Samsung TV, and availability may vary by region.
One touch is enough
Watch with just a touch
Mirroring movies or playing music clips from a smartphone on the TV screen is simple with one touch. When you touch the TV with a smartphone, the TV senses the touch and automatically reflects the playback of files. So, switching to the TV screen becomes fast and easy to continue enjoying your favorite content.
* Compatible devices only.
* This service only works when the mobile phone and the TV are switched on.
* Service may not start at the same time as model release.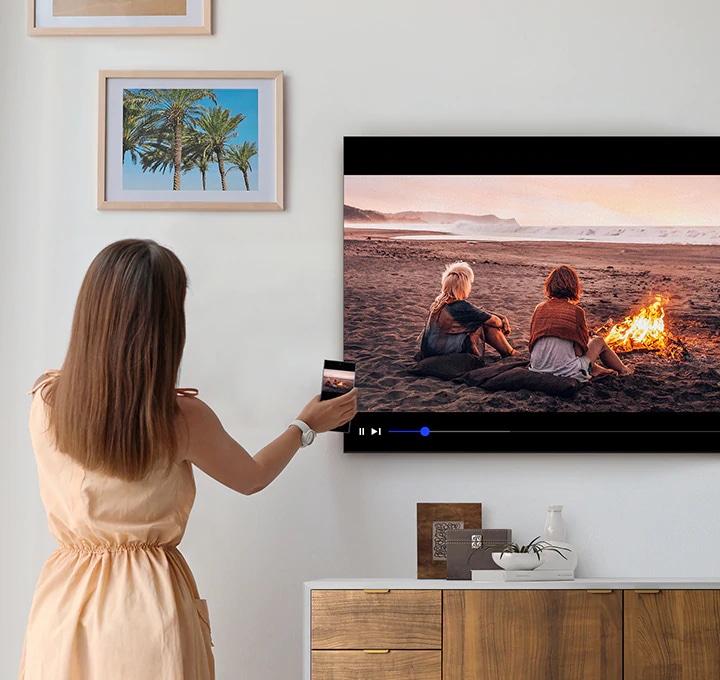 AirPlay 2 compatible
AirPlay 2
With the built-in AirPlay 2 feature, you can enjoy streaming or sharing any content from Apple devices on the big screen. Easily play videos, music, photos, and more from your iPhone, iPad or Mac on your Samsung TV.
* Service may not be launched at the same time as purchase of this product, and availability may vary by region.
* Images simulated for illustration purposes only.
* Availability of the feature and Graphic User Interface (GUI) may vary by region. So, check availability before use
Description
---
Only logged in customers who have purchased this product may leave a review.